94320 Thiais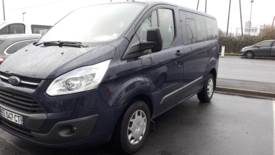 3 photos available
Adaptations
Secure Seat Belt System: Ceinture épaulière
Wheelchair hook up system: Crochet
Ramp : Hand-operated ramp
Number of wheelchairs : 1
Passenger seats: 9
Critères de confiance
Technical details
Mileage: 41000
Year : 2016
Transmission: Manuelle
Fuel type: Diesel
Description
Ford Transit Custom L1H1, en mode 7places Assises + 1 FR, Véhicule récent et en bon état. La voiture est récupérable du Lundi au Vendredi, à partir de 09h15 jusqu'à 17h15. On privilégie les locations sur 02jours au minimum. Animaux autorisés sous réserves de rendre la voiture propre.
91% answer rate.
Responds within:
Rental conditions
Wheeliz conditions
The driver must be at least 21 years of age, have held the equivalent of a French category B license (vehicles up to 3.5 tonnes) for at least 1 years, and must not have been the subject of any auto insurance claims in the last three years.
The driver's license must be in the driver's own name
Owner conditions
Pets not allowed, Non-smoker
This car is owned by an organisation.