69007 Lyon-7E-Arrondissement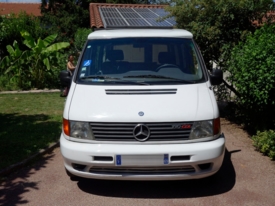 5 photos available
Adaptations
Wheelchair hook up system: Crochet
Ramp : Hand-operated ramp
Number of wheelchairs : 1
Passenger seats: 2
Dimensions (WxDxH) : 146 x 167 x 143
Critères de confiance
Technical details
Mileage: 66000
Year : 2001
Transmission: Manuelle
Fuel type: Diesel
Air Conditioning
Power-assisted steering
Description
J'ai un Mercedes Vito à robe blanche qui a besoin de prendre l'air de temps en temps puisqu'il s'ennuie dans son garage. Il aime rendre service à n'importe qui tant qu'on ne lui manque pas de respect. Il adore les grands espaces pour pouvoir gambader.
Plus sérieusement, on ne peut plus rajouter de sièges à l'arrière, ils sont trop difficile à mettre. Personnellement, ayant un gros fauteuil (Permobil C500), je suis plus à l'aise sans aucun siège.
A titre d'information beaucoup de véhicules (type Kangoo) ne sont pas possible pour moi à cause de la hauteur du passage de porte, ce n'est pas le cas avec ce vito.
Je ne suis pas disponible avant 13h30 (kiné, soins infirmier...)
Au plaisir pour une future location !
100% answer rate.
Responds within:
Rental conditions
Wheeliz conditions
The driver must be at least 21 years of age, have held the equivalent of a French category B license (vehicles up to 3.5 tonnes) for at least 1 years, and must not have been the subject of any auto insurance claims in the last three years.
The driver's license must be in the driver's own name
Owner conditions
Pets allowed, Non-smoker
à partir de 13 h, le matin étant compliqué pour moi (lever, kiné, infirmier).
69007 Lyon-7E-Arrondissement France